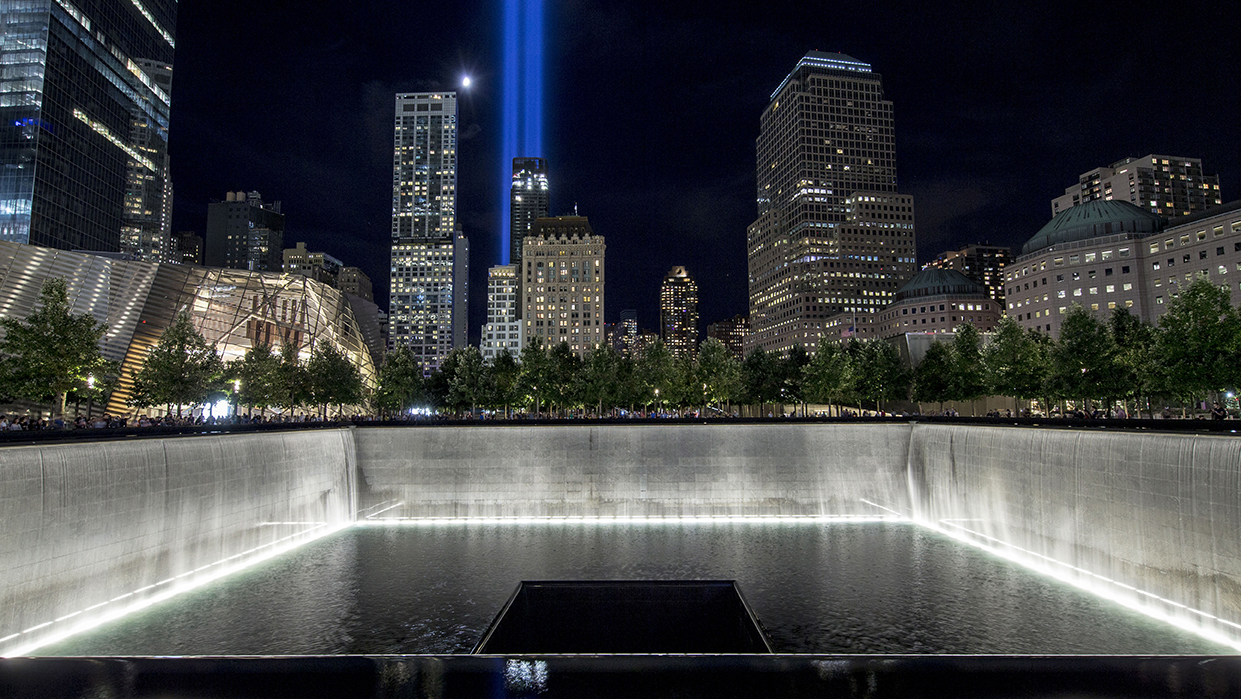 We Will Never Forget These
343 Firefighters Who Gave Their Life
So Others Could Live
Agnello Joseph Firefighter FDNY Ladder 118
Ahearn Brian Lieutenant FDNY Battalion 13
Allen Richard Firefighter FDNY Ladder 15
Allen Eric Firefighter FDNY Squad 18
Amato James Captain FDNY Squad 1
Amoroso Christopher NY/NJ Port
Anaya Jr. Calixto Firefighter FDNY Engine 4
Angelini Jr. Joseph Firefighter FDNY Ladder 4
Angelini Joseph Firefighter FDNY Rescue 1
Apostol Jr. Faustino Firefighter FDNY Battalion 2
Arce David Firefighter FDNY Engine 33
Arena Louis Firefighter FDNY Ladder 5
Asaro Carl Firefighter FDNY Battalion 9
Atlas Gregg Lieutenant FDNY Engine 10
Atwood Gerald Firefighter FDNY Ladder 21
Baptiste Gerard Firefighter FDNY Ladder 9
Barbara Gerard Assistant Chief FDNY Command Center
Barnes Matthew Firefighter FDNY Ladder 25
Barry Maurice NY/NJ Port
Barry Arthur Firefighter FDNY Ladder 15
Bates Steven Lieutenant FDNY Engine 235
Bedigian Carl Firefighter FDNY Engine 214
Belson Stephen Firefighter FDNY Battalion 7
Bergin John Firefighter FDNY Rescue 5
Beyer Paul Firefighter FDNY Engine 6
Bielfeld Peter Firefighter FDNY Ladder 42
Bilcher Brian Firefighter FDNY Squad 1
Bini Carl Firefighter FDNY Rescue 5
Blackwell Christopher Firefighter FDNY Rescue 3
Bocchino Michael Firefighter FDNY Battalion 48
Bonomo Frank Firefighter FDNY Engine 230
Box Gary Firefighter FDNY Squad 1
Boyle Michael Firefighter FDNY Engine 33
Bracken Kevin Firefighter FDNY Engine 40
Brennan Michael Firefighter FDNY Ladder 4
Brennan Peter Firefighter FDNY Squad 288
Brethel Daniel Captain FDNY Ladder 24
Brown Patrick Captain FDNY Ladder 3
Brunn Andrew Firefighter FDNY Ladder 5
Brunton Vincent Captain FDNY Ladder 105
Bucca Ronald FM FDNY Fire Marshal
Buck Greg Firefighter FDNY Engine 201
Burke Jr. William Captain FDNY Engine 21
Burns Donald Assistant Chief FDNY Command Center
Burnside John Firefighter FDNY Ladder 20
Butler Thomas Firefighter FDNY Squad 1
Byrne Patrick Firefighter FDNY Ladder 101
Cain George Firefighter FDNY Ladder 7
Calabro Salvatore Firefighter FDNY Ladder 101
Callahan Frank Captain FDNY Ladder 35
Cammarata Michael Firefighter FDNY Ladder 11
Cannizzaro Brian Firefighter FDNY Ladder 101
Carey Dennis Firefighter FDNY Hazmat
Carlo Michael Firefighter FDNY Engine 230
Carroll Michael Firefighter FDNY Ladder 3
Carroll Peter Firefighter FDNY Squad 1
Casoria Thomas Firefighter FDNY Engine 22
Cawley Michael Firefighter FDNY Ladder 136
Challahan Liam NY/NJ Port
Cherry Vernon Firefighter FDNY Ladder 118
Chiofalo Nicholas Firefighter FDNY Engine 235
Chipura John Firefighter FDNY Engine 219
Cirri Robert Port Auth Employee NY/NJ Port Other
Clarke Michael Firefighter FDNY Ladder 2
Coakley Steven Firefighter FDNY Engine 217
Coleman Tarel Firefighter FDNY Squad 252
Collins John Firefighter FDNY Ladder 25
Cordice Robert Firefighter FDNY Squad 1
Correa Ruben Firefighter FDNY Engine 74
Coughlin John NYPD ESU Truck 4
Coyle James Firefighter FDNY Ladder 3
Crawford Robert Firefighter FDNY Safety Battalion
Crisci John Lieutenant FDNY Hazmat
Cross Dennis Battalion Chief FDNY Battalion 57
Cullen 3rd Thomas Firefighter FDNY Squad 41
Curatolo Robert Firefighter FDNY Ladder 16
Curtin Michael NYPD ESU Truck 2
Dallara John NYPD ESU Truck 2
Danz Vincent NYPD ESU Truck 3
Datri Edward Lieutenant FDNY Squad 1
Dauria Michael Firefighter FDNY Engine 40
Davidson Scott Firefighter FDNY Ladder 118
Davis Clinton NY/NJ Port
Day Edward Firefighter FDNY Ladder 11
Deangelis Thomas Battalion Chief FDNY Battalion 8
Delvalle Manuel Firefighter FDNY Engine 5
Demeo Martin Firefighter FDNY Hazmat
Derubbio David Firefighter FDNY Engine 226
Desperito Andrew Lieutenant FDNY Engine 1
Devlin Dennis Battalion Chief FDNY Battalion 9
Dewan Gerard Firefighter FDNY Ladder 3
Dipasquale George Firefighter FDNY Ladder 2
Dominguez Jerome NYPD ESU Truck 3
Donnelly Kevin Lieutenant FDNY Ladder 3
Dowdell Kevin Lieutenant FDNY Rescue 4
Downey Raymond Battalion Chief FDNY Special Op.
Driscoll Stephen NYPD ESU Truck 4
Duffy Gerard Firefighter FDNY Ladder 21
Egan Martin Captain FDNY Division 15
Elferis Michael Firefighter FDNY Engine 22
Ellis Mark NYPD Transit Dist. 4
Esposito Michael Lieutenant FDNY Squad 1
Esposito Francis Firefighter FDNY Engine 235
Evans Robert Firefighter FDNY Engine 33
Fanning John Battalion Chief FDNY Hazmop
Farino Thomas Captain FDNY Engine 26
Farrell Terrence Firefighter FDNY Rescue 4
Farrelly Joseph Captain FDNY Division 1
Fazio Robert NYPD 13th Precinct
Feehan William First Deputy Commissioner FDNY 1st DC
Fehling Lee Firefighter FDNY Engine 235
Feinberg Alan Firefighter FDNY Battalion 9
Fiore Michael Firefighter FDNY Rescue 5
Fischer John Lieutenant FDNY Ladder 20
Fletcher Andre Firefighter FDNY Rescue 5
Florio John Firefighter FDNY Engine 214
Fodor Michael Lieutenant FDNY Ladder 21
Foley Thomas Firefighter FDNY Rescue 3
Fontana David Firefighter FDNY Squad 1
Foreman Donald NY/NJ Port
Foti Robert Firefighter FDNY Ladder 7
Fredericks Andrew Firefighter FDNY Squad 18
Freund Peter Lieutenant FDNY Engine 55
Froehner Gregg NY/NJ Port
Gambino Jr. Thomas Firefighter FDNY Rescue 3
Ganci Jr. Peter Chief of Department FDNY Chief Of Dept.
Garbarini Charles Lieutenant FDNY Battalion 9
Gardner Thomas Firefighter FDNY Hazmat
Garvey Matthew Firefighter FDNY Squad 1
Gary Bruce Firefighter FDNY Engine 40
Geidel Gary Firefighter FDNY Rescue 1
Geraghty Edward Battalion Chief FDNY Battalion 9
Germain Denis Firefighter FDNY Ladder 2
Giammona Vincent Lieutenant FDNY Ladder 5
Giberson James Firefighter FDNY Ladder 35
Gies Ronnie Firefighter FDNY Squad 288
Gill Paul Firefighter FDNY Engine 54
Gillis Rodney NYPD ESU Truck 8
Ginley John Lieutenant FDNY Engine 40
Giordano John Firefighter FDNY Hazmat
Giordano Jeffrey Firefighter FDNY Ladder 3
Glascoe Keith Firefighter FDNY Ladder 21
Gorman Thomas NY/NJ Port
Gray James Firefighter FDNY Ladder 20
Grzelak Joseph Battalion Chief FDNY Battalion 48
Guadalupe Jose Firefighter FDNY Engine 54
Guja Geoffrey Lieutenant FDNY Battalion 43
Gullickson Joseph Lieutenant FDNY Ladder 101
Halderman David Firefighter FDNY Squad 18
Halloran Vincent Lieutenant FDNY Ladder 8
Hamilton Robert Firefighter FDNY Squad 41
Hanley Sean Firefighter FDNY Ladder 20
Hannafin Thomas Firefighter FDNY Ladder 5
Hannon Dana Firefighter FDNY Engine 26
Harlin Daniel Firefighter FDNY Ladder 2
Harrell Harvey Lieutenant FDNY Rescue 5
Harrell Stephen Lieutenant FDNY Battalion 7
Haskell Timothy Firefighter FDNY Squad 18
Haskell Jr. Thomas Captain FDNY Division 15
Hatton Terence Captain FDNY Rescue 1
Haub Michael Firefighter FDNY Ladder 4
Healey Michael Lieutenant FDNY Squad 41
Heffernan John Firefighter FDNY Ladder 11
Henderson Ronnie Firefighter FDNY Engine 279
Henry Joseph Firefighter FDNY Ladder 21
Henry William Firefighter FDNY Rescue 1
Hetzel Thomas Firefighter FDNY Ladder 13
Hickey Brian Captain FDNY Rescue 4
Higgins Timothy Lieutenant FDNY Special Op.
Hohmann Jonathan Firefighter FDNY Hazmat
Holohan Thomas Firefighter FDNY Engine 6
Houston Uhuru NY/NJ Port
Howard George Police Officer NY/NJ Port
Huczko Steve NY/NJ Port
Hunter Joseph Firefighter FDNY Squad 288
Hynes Walter Captain FDNY Ladder 13
Ielpi Jonathan Firefighter FDNY Squad 288
Ill Jr. Frederick Captain FDNY Ladder 2
Infante Anthony NY/NJ Port
Johnston William Firefighter FDNY Engine 6
Jordan Andrew Firefighter FDNY Ladder 132
Joseph Karl Firefighter FDNY Engine 207
Jovic Anthony Lieutenant FDNY Battalion 47
Juarbe Jr. Angel Firefighter FDNY Ladder 12
Judge Mychal Chaplain FDNY Chaplain
Jurgens Paul NY/NJ Port
Kane Vincent Firefighter FDNY Engine 22
Kasper Charles Battalion Chief FDNY Battalion Soc
Kaulfers Robert NY/NJ Port
Keating Paul Firefighter FDNY Ladder 5
Kelly Jr. Richard Firefighter FDNY Ladder 11
Kelly Thomas Firefighter FDNY Ladder 15
Kelly Thomas Firefighter FDNY Ladder 105
Kennedy Thomas Firefighter FDNY Ladder 101
Kerwin Ronald Lieutenant FDNY Squad 288
Kiefer Michael Firefighter FDNY Ladder 132
King Jr. Robert Firefighter FDNY Engine 33
Kloepfer Ronald NYPD ESU Truck 7
Kopytko Scott Firefighter FDNY Ladder 15
Krukowski William Firefighter FDNY Ladder 21
Kumpel Kenneth Firefighter FDNY Ladder 25
Kuveikis Thomas Firefighter FDNY Squad 252
Laforge David Firefighter FDNY Ladder 20
Lake William Firefighter FDNY Rescue 2
Lane Robert Firefighter FDNY Engine 55
Langone Thomas NYPD ESU Truck 10
Langone Peter Firefighter FDNY Squad 252
Larsen Scott Firefighter FDNY Ladder 15
Laszczynski Paul NY/NJ Port
Leahy James NYPD Sixth Precinct
Leavey Joseph Lieutenant FDNY Ladder 15
Leavy Neil Firefighter FDNY Engine 217
Lemagne David NY/NJ Port
Lennon John NY/NJ Port
Levi John NY/NJ Port
Libretti Daniel Firefighter FDNY Rescue 2
Lillo Carlos Paramedic FDNY EMT 7981
Linnane Robert Firefighter FDNY Ladder 20
Lynch James NY/NJ Port
Lynch Michael Firefighter FDNY Engine 40
Lynch Michael Firefighter FDNY Ladder 4
Lyons Patrick Firefighter FDNY Squad 252
Lyons Michael Firefighter FDNY Squad 41
Maffeo Joseph Firefighter FDNY Ladder 101
Mahoney William Firefighter FDNY Rescue 4
Maloney Joseph Firefighter FDNY Battalion 6
Marchbanks Jr. Joseph Battalion Chief FDNY Battalion 12
Margiotta Charles Lieutenant FDNY Battalion 22
Marino Kenneth Firefighter FDNY Rescue 1
Marshall John Firefighter FDNY Engine 23
Martin Peter Lieutenant FDNY Rescue 2
Martini Paul Lieutenant FDNY Engine 201
Mascali Joseph Firefighter FDNY Tactical Support
Maynard Keithroy Firefighter FDNY Engine 33
Mazza Kathy NY/NJ Port
McAleese Brian Firefighter FDNY Engine 226
McAvoy John Firefighter FDNY Ladder 3
McCann Thomas Firefighter FDNY Battalion 8
McDonnell Brian NYPD ESU Truck 10
McGinn William Lieutenant FDNY Squad 18
McGovern William Battalion Chief FDNY Battalion 2
McHugh Dennis Firefighter FDNY Ladder 13
McIntyre Donald NY/NJ Port
McPadden Robert Firefighter FDNY Engine 23
McShane Terence Firefighter FDNY Ladder 101
McSweeney Timothy Firefighter FDNY Ladder 3
McWilliams Martin Firefighter FDNY Engine 22
Mcmahon Robert Firefighter FDNY Ladder 20
Meisenheimer Raymond Firefighter FDNY Rescue 3
Mendez Charles Firefighter FDNY Ladder 7
Mercado Steve Firefighter FDNY Engine 40
Merino Yamel Paramedic Other
Miller Douglas Firefighter FDNY Rescue 5
Miller Jr. Henry Firefighter FDNY Ladder 105
Minara Robert Firefighter FDNY Ladder 25
Mingione Thomas Firefighter FDNY Ladder 132
Mitchell Paul Lieutenant FDNY Battalion 1
Modafferi Louis Captain FDNY Rescue 5
Mojica Dennis Lieutenant FDNY Rescue 1
Mojica Manuel Firefighter FDNY Squad 18
Molinaro Carl Firefighter FDNY Ladder 2
Montesi Michael Firefighter FDNY Rescue 1
Moody Thomas Captain FDNY Division 1
Moran John Battalion Chief FDNY Battalion 49
Morello Vincent Firefighter FDNY Ladder 35
Morrone Fred NY/NJ Port
Mozzillo Christopher Firefighter FDNY Engine 55
Muldowney Jr. Richard Firefighter FDNY Ladder 7
Mullan Michael Firefighter FDNY Ladder 12
Mulligan Dennis Firefighter FDNY Ladder 2
Murphy Raymond Lieutenant FDNY Ladder 16
Nagel Robert Lieutenant FDNY Engine 58
Napolitano John Firefighter FDNY Rescue 2
Navis Joseph NY/NJ Port
NcNeil Walter NY/NJ Port
Nelson James NY/NJ Port
Nelson Peter Firefighter FDNY Rescue 4
Nevins Gerard Firefighter FDNY Rescue 1
Niedermeyer Alfonse NY/NJ Port
O'Callaghan Daniel Lieutenant FDNY Ladder 4
O'Keefe William Captain FDNY Division 15
O'Keefe Patrick Firefighter FDNY Rescue 1
O'Rourke Kevin Firefighter FDNY Rescue 2
Oberg Dennis Firefighter FDNY Ladder 105
Oelschlager Douglas Firefighter FDNY Ladder 15
Ogren Joseph Firefighter FDNY Ladder 3
Ohagan Thomas Lieutenant FDNY Battalion 4
Oitice Samuel Firefighter FDNY Ladder 4
Olsen Eric Firefighter FDNY Ladder 15
Olsen Jeffrey Firefighter FDNY Engine 10
Olson Steven Firefighter FDNY Ladder 3
Otten Michael Firefighter FDNY Ladder 35
Palazzo Jeffrey Firefighter FDNY Rescue 5
Palmer Orio Battalion Chief FDNY Battalion 7
Palombo Frank Firefighter FDNY Ladder 105
Pansini Paul Firefighter FDNY Engine 10
Paolillo John Battalion Chief FDNY Battalion 11
Pappageorge James Firefighter FDNY Engine 23
Parham James NY/NJ Port
Parro Robert Firefighter FDNY Engine 8
Pearsall Durrell Firefighter FDNY Rescue 4
Perry John NYPD 40th Precinct
Perry Glenn Lieutenant FDNY Battalion 12
Petti Philip Lieutenant FDNY Battalion 7
Pettit Glenn NYPD Police Academy
Pezzulo Dominick Police Officer NY/NJ Port
Pfeifer Kevin Lieutenant FDNY Engine 33
Phelan Kenneth Lieutenant FDNY Battalion 32
Pickford Christopher Firefighter FDNY Engine 201
Powell Shawn Firefighter FDNY Engine 207
Princiotta Vincent Firefighter FDNY Ladder 7
Prior Kevin Firefighter FDNY Squad 252
Prunty Richard Battalion Chief FDNY Battalion 2
Quappe Lincoln Firefighter FDNY Rescue 2
Quilty Michael Lieutenant FDNY Ladder 11
Quinn Ricardo Paramedic FDNY EMT 7990
Ragaglia Leonard Firefighter FDNY Engine 54
Ragusa Michael Firefighter FDNY Engine 279
Rall Edward Firefighter FDNY Rescue 2
Rand Adam Firefighter FDNY Squad 288
Regan Donald Firefighter FDNY Rescue 3
Regan Robert Lieutenant FDNY Ladder 118
Regenhard Christian Firefighter FDNY Ladder 131
Reilly Kevin Firefighter FDNY Engine 207
Reynolds Bruce Police Officer NY/NJ Port
Richard Vernon Lieutenant FDNY Ladder 7
Richards Claude NYPD Bomb Squad
Riches James Firefighter FDNY Engine 4
Rivelli Jr. Joseph Firefighter FDNY Ladder 25
Roberts Michael Firefighter FDNY Ladder 35
Roberts Michael Firefighter FDNY Engine 214
Rodrigues Antonio NY/NJ Port
Rodriguez Richard NY/NJ Port
Rodriguez Anthony Firefighter FDNY Engine 279
Rogan Matthew Firefighter FDNY Ladder 11
Roma Keith
Romito James NY/NJ Port
Rossomando Nicholas Firefighter FDNY Rescue 5
Roy Timothy NYPD Bus Squad
Ruback Paul Firefighter FDNY Ladder 25
Russell Stephen Firefighter FDNY Engine 55
Russo Michael Lieutenant FDNY Special Op.
Ryan Matthew Battalion Chief FDNY Battalion 1
Sabella Thomas Firefighter FDNY Ladder 13
Santora Christopher Firefighter FDNY Engine 54
Santore John Firefighter FDNY Ladder 5
Saucedo Gregory Firefighter FDNY Ladder 5
Scauso Dennis Firefighter FDNY Hazmat
Schardt John Firefighter FDNY Engine 201
Scheffold Fred Battalion Chief FDNY Battalion 12
Schoales Thomas Firefighter FDNY Engine 4
Schrang Gerard Firefighter FDNY Rescue 3
Sikorsky Gregory Firefighter FDNY Squad 41
Siller Stephen Firefighter FDNY Squad 1
Simpson Jeff Firefighter
Skala John NY/NJ Port
Smagala Jr. Stanley Firefighter FDNY Engine 226
Smith Moria NYPD 13th Precinct
Smith Jr. Leon Firefighter FDNY Ladder 118
Smith Kevin Firefighter FDNY Hazmat
Spear Jr. Robert Firefighter FDNY Engine 26
Spor Joseph Firefighter FDNY Rescue 3
Stack Lawrence Battalion Chief FDNY Battalion 50
Stackpole Timothy Captain FDNY Division 11
Stajk Gregory Firefighter FDNY Ladder 13
Stark Jeffrey Firefighter FDNY Engine 230
Stuart Walwyn NY/NJ Port
Suarez Ramon NYPD Transit Dist. 4
Suarez Benjamin Firefighter FDNY Ladder 21
Suhr Daniel Firefighter FDNY Engine 216
Sullivan Christopher Lieutenant FDNY Ladder 111
Sweeney Brian Firefighter FDNY Rescue 1
Tallon Sean Firefighter FDNY Ladder 10
Talty Paul NYPD ESU Truck 10
Tarasiewicz Allan Firefighter FDNY Rescue 5
Tegtmeier Paul Firefighter FDNY Engine 4
Tierney John Firefighter FDNY Ladder 9
Tietjen Kenneth NY/NJ Port
Tipping 2nd John Firefighter FDNY Ladder 4
Tirado Jr. Hector Firefighter FDNY Engine 23
Valentin Santos NYPD ESU Truck 7
Vanhine Richard Firefighter FDNY Squad 41
Vega Peter Firefighter FDNY Ladder 118
Veling Lawrence Firefighter FDNY Engine 235
Vigiano Joseph NYPD ESU Truck 3
Vigiano II John Firefighter FDNY Ladder 132
Villanueva Sergio Firefighter FDNY Ladder 132
Virgilio Lawrence Firefighter FDNY Squad 18
Wallace Robert Lieutenant FDNY Engine 205
Walz Jeffrey Firefighter FDNY Ladder 9
Warchola Michael Lieutenant FDNY Ladder 5
Waters Patrick Captain FDNY Special Op.
Watson Kenneth Firefighter FDNY Engine 214
Weaver Walter NYPD ESU Truck 3
Webb Nathaniel NY/NJ Port
Weinberg Michael Firefighter FDNY Engine 1
Weiss David Firefighter FDNY Rescue 1
Welty Timothy Firefighter FDNY Squad 288
Whelan Eugene Firefighter FDNY Engine 230
White Edward Firefighter FDNY Engine 230
Whitford Mark Firefighter FDNY Engine 23
Wholey Michael NY/NJ Port
Wilkinson Glenn Lieutenant FDNY Engine 238
Williamson John Battalion Chief FDNY Battalion 6
Wooley David Captain FDNY Ladder 4
York Raymond Firefighter FDNY Engine 285
News Media Reaction
| | | |
| --- | --- | --- |
| | | |
| Washington Times, DC 9/11/01 | New York Daily News 9/14/01 | The New London Day, CT 9/12/01 |
September 11: Timeline of Events
It is a day that we will never forget ...
5:43 a.m. - Hijackers check in at Portland Airport
6:00 a.m. - Two hijackers fly to Boston
6:20 a.m.-7:48 a.m.- Hijackers arrive at airports and board flights
8:13 a.m. - Flight 11 makes its last communication with Air Traffic Control
8:24 a.m. - Boston Air Traffic Controllers hear Flight 11 hijacker say, 'We Have Some Planes,' but are uncertain of the origin of transmission
8:45 a.m.: Hijacked passenger jet, American Airlines Flight 11 out of Boston, Massachusetts, crashes into the north tower of the World Trade Center
9:03 a.m.: A second hijacked airliner, United Airlines Flight 175 from Boston, crashes into the south tower of the World Trade Center and explodes
9:17 a.m.: The Federal Aviation Administration shuts down all New York City area airports
9:21 a.m.: The Port Authority of New York and New Jersey orders all bridges and tunnels in the New York area closed
9:30 a.m.: President Bush, speaking in Sarasota, Florida, says the country has suffered an "apparent terrorist attack."
9:40 a.m.: The FAA halts all flight operations at U.S. airports; this was the first time in U.S. history that air traffic nationwide was halted
9:43 a.m.: American Airlines Flight 77 crashes into the Pentagon; evacuation begins immediately
9:45 a.m.: The White House evacuates
9:57 a.m.: President Bush departs from Florida
10:05 a.m.: The south tower of the World Trade Center collapses
10:08 a.m.: Secret Service agents armed with automatic rifles are deployed into Lafayette Park across from the White House
10:10 a.m.: A portion of the Pentagon collapses
10:10 a.m.: United Airlines Flight 93, also hijacked, crashes in Somerset County, Pennsylvania, southeast of Pittsburgh
10:13 a.m.: The United Nations building evacuates
10:22 a.m.: In Washington, the State and Justice departments are evacuated, along with the World Bank
10:24 a.m.: The FAA reports that all inbound transatlantic aircraft flying into the United States are being diverted to Canada
10:28 a.m.: The World Trade Center's north tower collapses from the top down
10:45 a.m.: All federal office buildings in Washington are evacuated
10.46 a.m.: U.S. Secretary of State Colin Powell cuts short his trip to Latin America to return to the United States
10.48 a.m.: Police confirm the plane crash in Pennsylvania
10:53 a.m.: New York's primary elections, scheduled for Tuesday, are postponed
10:54 a.m.: Israel evacuates all diplomatic missions
10:57 a.m.: New York Gov. George Pataki says all state government offices are closed
11:02 a.m.: New York City Mayor Rudolph Giuliani urges New Yorkers to stay at home and orders an evacuation of the area south of Canal Street
11:18 a.m.: American Airlines reports it has lost two aircraft. American Flight 11, a Boeing 767 flying from Boston to Los Angeles, had 81 passengers and 11 crew aboard. Flight 77, a Boeing 757 en route from Washington's Dulles International Airport to Los Angeles, had 58 passengers and six crew members aboard. Flight 11 slammed into the north tower of the World Trade Center. Flight 77 hit the Pentagon
11:26 a.m.: United Airlines reports that United Flight 93, en route from Newark, New Jersey, to San Francisco, California, crashed in Pennsylvania. The airline also states that it is "deeply concerned" about United Flight 175
11:59 a.m.: United Airlines confirms that Flight 175, from Boston to Los Angeles, crashed with 56 passengers and nine crew members aboard. It hit the World Trade Center's south tower
12:04 p.m.: Los Angeles International Airport, the destination of three of the crashed airplanes, is evacuated
12:15 p.m.: San Francisco International Airport is evacuated and shut down. The airport was the destination of United Airlines Flight 93, which crashed in Pennsylvania
12:15 p.m.: The Immigration and Naturalization Service issues highest alerts at U.S. borders with Canada and Mexico
12:30 p.m.: The FAA says 50 flights were in U.S. airspace, but none reported any problems
1:04 p.m.: Bush, speaking from Barksdale Air Force Base in Louisiana, says all appropriate security measures were being taken, including putting the U.S. military on high alert worldwide. He asks for prayers for those killed or wounded in the attacks and says, "Make no mistake, the United States will hunt down and punish those responsible for these cowardly acts.
1:27 p.m.: A state of emergency is declared by the city of Washington
1:44 p.m.: The Pentagon states that five warships and two aircraft carriers would leave the U.S. Naval Station in Norfolk, Virginia, to protect the East Coast from further attack. The two carriers, the USS George Washington and the USS John F. Kennedy headed for the New York coast
1:48 p.m.: Bush leaves Barksdale Air Force Base aboard Air Force One and flies to an Air Force base in Nebraska
2:30 p.m.: The FAA announces there would be no U.S. commercial air traffic until noon EDT Wednesday at the earliest
2:49 p.m.: At a news conference, Giuliani states that subway and bus services were partially restored in New York City. When he is asked about the number of people killed, Giuliani says, "I don't think we want to speculate about that -- more than any of us can bear.
3:55 p.m.: Karen Hughes, a White House counselor, indicates the president was at an undisclosed location, later revealed to be Offutt Air Force Base in Nebraska. There, he conducted a National Security Council meeting by phone. Vice President Dick Cheney and National Security Adviser Condoleezza Rice were in a secure facility at the White House. Defense Secretary Donald Rumsfeld was at the Pentagon
3:55 p.m.: Giuliani now says the number of critically injured in New York City is up to 200 with 2,100 total injuries reported
4 p.m.: Reports from various news outlets indicate Osama bin Laden is responsible for the attacks
4:06 p.m.: California Gov. Gray Davis dispatches urban search-and-rescue teams to New York
4:10 p.m.: Building 7 of the World Trade Center complex is reported on fire
4:20 p.m.: U.S. Sen. Bob Graham, D-Florida, chairman of the Senate Intelligence Committee, says he was "not surprised there was an attack, but was surprised at the specificity." He says he was "shocked at what actually happened; the extent of it."
4:25 p.m.: The American Stock Exchange, the Nasdaq and the New York Stock Exchange indicate they would remain closed Wednesday
4:30 p.m.: The president leaves Offutt Air Force Base in Nebraska aboard Air Force One to return to Washington
5:20 p.m.: The 47-story Building 7 of the World Trade Center complex collapses. The evacuated building was damaged when the twin towers collapsed
6:10 p.m.:Giuliani urges New Yorkers to stay home Wednesday if they can
6:40 p.m.: Rumsfeld, the U.S. defense secretary, holds a news conference in the Pentagon, noting the building is operational. "It will be in business tomorrow," he said
6:54 p.m.: Bush arrives back at the White House aboard Marine One and schedules to address the nation
7:45 p.m.: The New York Police Department indicates that at least 78 officers are missing. The city also says that as many as half of the first 400 firefighters on the scene were killed
8:30 p.m.: President Bush addresses the nation, saying "thousands of lives were suddenly ended by evil" and asked for prayers for the families and friends of Tuesday's victims. "These acts shattered steel, but they cannot dent the steel of American resolve," he said. The president went on to say that the U.S. government would make no distinction between the terrorists who committed the acts and those who harbored them
9:57 p.m.: Giuliani says New York City schools would be closed Wednesday and no more volunteers were needed for Tuesday evening's rescue efforts. He said there was hope that there were still people alive in rubble