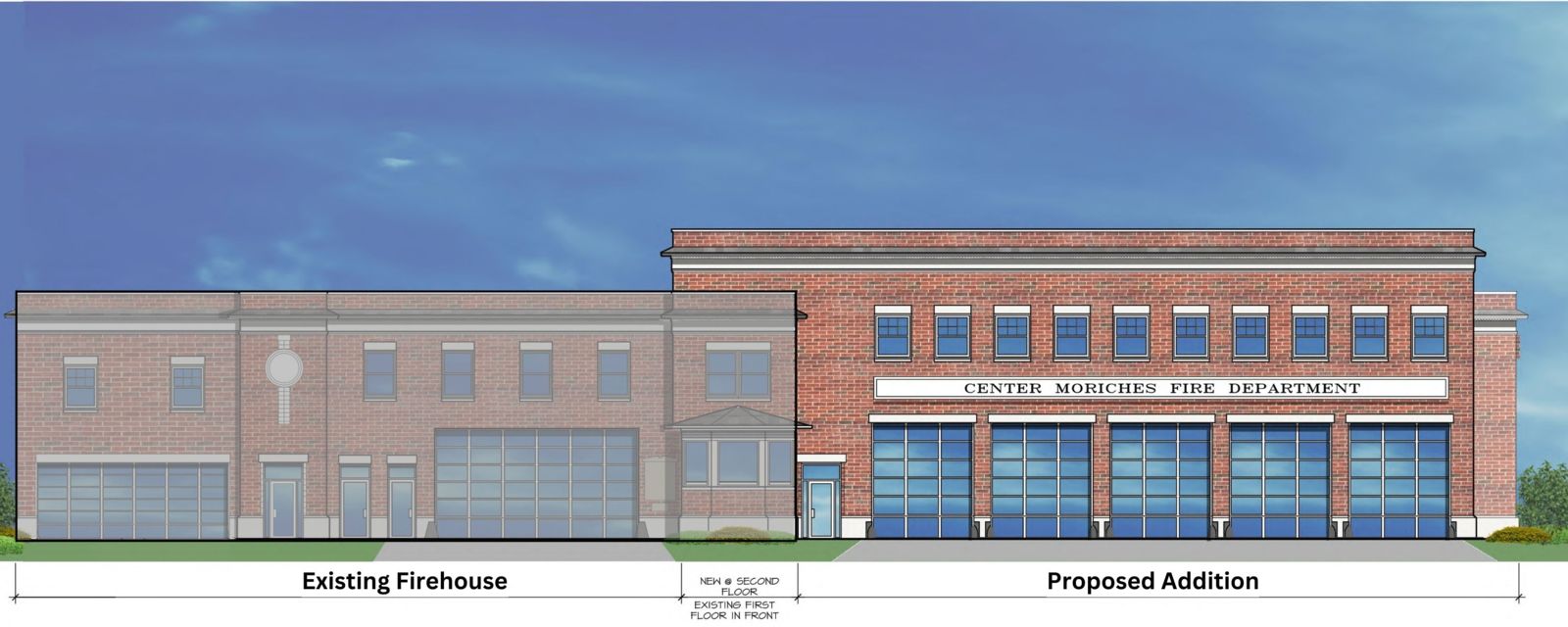 REVOTE ON CENTER MORICHES FIRE DISTRICT BOND
SET FOR SEPTEMBER 12
Click here for Frequently Asked Questions
The Center Moriches Fire District has set September 12 as the date of a revote on a $17.9-million bond proposition that would pay for the renovation and expansion of the department's firehouse. Because of the larger size of modern fire trucks, the present firehouse fails to meet federal and fire industry codes.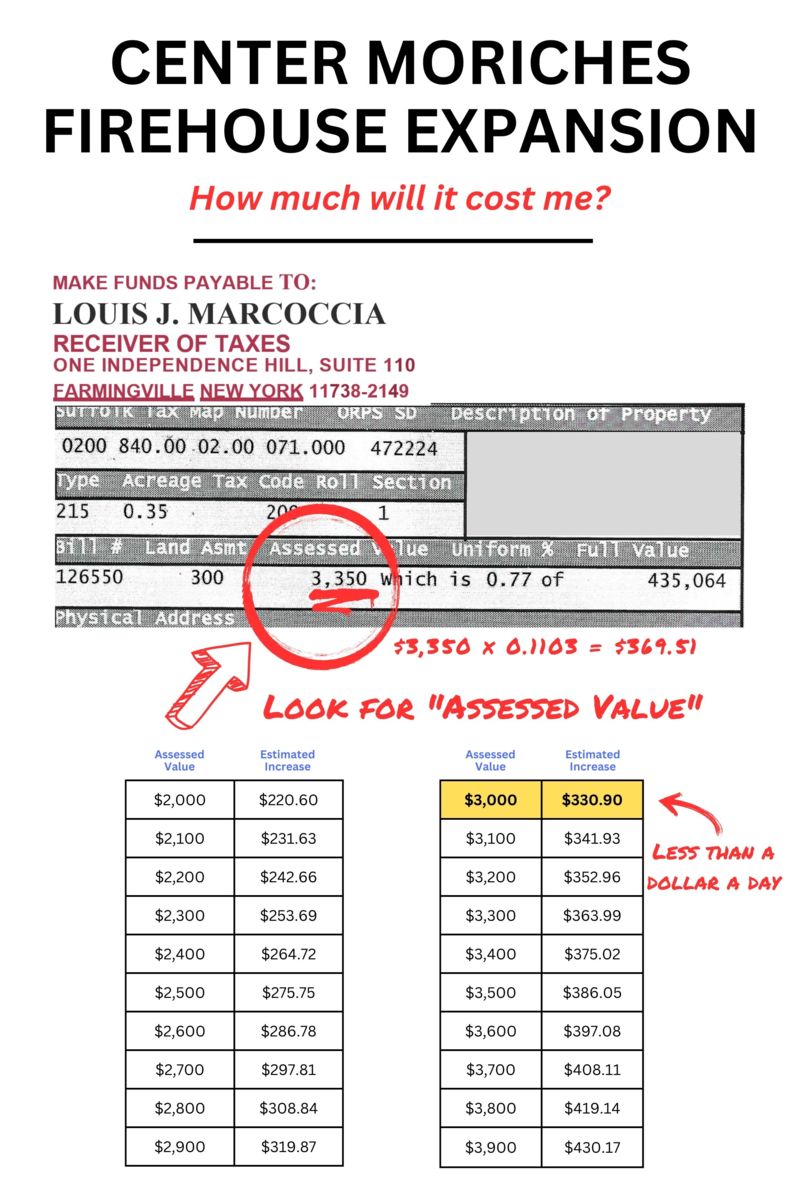 In a previous referendum on the bond proposition held June 20, residents narrowly voted against the bond proposal, 221 to 201.
The fire district wants to renovate a portion of the facility originally built in 1930, bringing the overall building into compliance with current safety codes and standards, and add additional apparatus bays.
Officials say that the present firehouse urgently needs of expansion because it is too small to adequately protect the public as alarm calls have more than doubled in recent years. Emergency medical service calls have skyrocketed from 735 to 1,778 between 2010 and 2022, an increase of 142 percent. Fire call volume has increased from 347 to 539 during that same time, an increase of 55 percent.
The plan, if approved by voters, would increase fire district taxes by less than one dollar a day for average households. Click the chart on the right.
It keeps the cost of fire and EMS services well below that of such nearby districts as Coram, Brookhaven/Shirley, Middle Island, and North Patchogue.
Fire district taxes make up less than 7.5 percent of the average Center Moriches property tax bill. Click the chart below.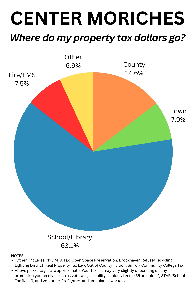 Polls will be open between 12:00 pm and 9:00 pm on Tuesday, September 12 at the firehouse, located at 301 Main Street in Center Moriches.
"Our volunteers freely give a substantial amount of their time to protect the safety of Center Moriches residents," said Commissioner Edward Stypulkowski, "yet both they and their equipment are crammed into a substandard, undersized, and obsolete firehouse."
"These essential renovations will bring us into compliance with current fire safety codes and standards," he said. "They'll also help protect the health and safety of our volunteer firefighters and the community at large."
"Our volunteers – your neighbors – are saying to the community: 'Help us help you.'"
"We're proposing an expansion, not an entirely new structure," stressed John DeLong, Chairman of the Board of Commissioners. "At less than a dollar a day, this is a very affordable option. And this expansion is needed to protect the community's safety."
An apparatus bay built in 1970 is now too narrow to provide for the safety of firefighters and to allow for the efficient dispatching of emergency vehicles. An annex building, added in 1990, is now too small to accommodate modern fire trucks. And a radio room, built in 2000, cannot properly house contemporary telecom gear and will be repurposed for the use of emergency medical personnel. Most days, the department staffs paramedics and EMTs 24/7.
The district's fleet of vehicles has expanded from ten at the time of the last expansion in 1970 to 19 today – nearly double – including five fire trucks, three ambulances, two fire police vehicles, an ALS first responder, and two rescue boats.
Today's ladder trucks are at least 29 percent longer than trucks from 40 years ago, and pumpers are 22 percent longer. They are too long to be properly accommodated by either the main apparatus bay or by the annex building.
The department's entire communications system is now situated at basement and ground level. Based upon lessons learned from Superstorm Sandy in 2012, these telecom systems must be elevated to protect them from floods and hurricanes.
In addition, the lack of separate gear storage space creates dangerously overcrowded conditions for volunteers where vehicles operate – and exposes firefighters to carcinogens.
The current firehouse also violates federal codes because of its lack of access for people with disabilities. It also lacks separate gear dressing areas for men and women volunteers and separate quarters for male and female ambulance employees.
A cost analysis concluded that renovating and expanding the existing firehouse would be less expensive than building a new facility. The renovation would re-use any existing infrastructure that still meets current safety standards.
The $17.9 million bond would be supplemented by $500,000 in reserve funds, available because of careful, conservative budgeting by the Board of Fire Commissioners. It brings the total project to $18.4 million. Sandpebble Builders of Speonk, NY will serve as construction managers.
---
Click here for Frequently Asked Questions.
Click here for Front Elevation Drawing.